If you have HBO give this show a chance. I viewed the first two episodes and liked it for the pure entertainment of it. If you like quirky shows like "Six Feet Under" and "Deadwood" you might like "True Blood". Give it a shot and give me your opinion.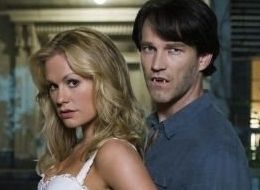 According to the Huffington Post;
HBO has renewed Alan Ball's vampire drama "True Blood" after only two episodes.

"Blood" debuted Sept. 7 on the premium network to a modest 1.4 million viewers. But the debut has attracted a total of 4 million viewers with repeat airings. Also, HBO noted the second episode grew 24%.

"We're in a business where we have to believe in the show — and the show is fantastic," said Michael Lombardo, president of HBO's programming group and West Coast operations. "It gets better in every episode. The show deserves a second year whatever the ratings.

Share on Facebook